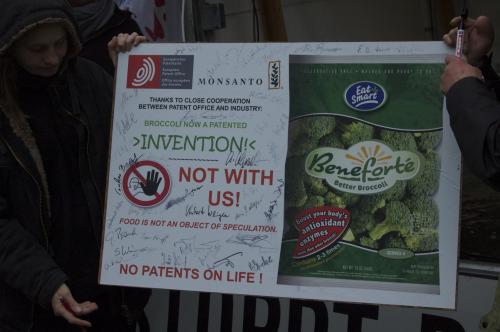 The following text is a press release of no patents on seeds.
EU governments urged to take legal action
Munich, 26.10.2011. Three hundred people representing a broad range of environmental activists, farmers and development organisations held a protest against patents on seeds and animals outside the European Patent Office (EPO) in Munich. With six meter long flying vegetables, a stall with patented broccoli and agricultural machinery, the focus of the protest was the sell-out of resources needed for daily living. After the EPO announced that the patent on the broccoli (EP 1069819) would not be revoked, speakers from various organisations are now looking for political action. Speakers at the demonstration included representatives from organisations such as Friends of the Earth, the German Family Farmers Organisation, the international coalition of "No Patents On Seeds" and others.